PUB OF THE YEAR: FINAL FOUR REVEALED
Dec 2014: Camra has revealed its final four for pub of the year. They are The Harewood, in Broadbottom, Greater Manchester; the Freshfield, Formby, Merseyside; the Salutation, in Ham, Gloucestershire and the Windmill, in Sevenoaks, Kent. The winner will be announced in February.
TOP RAT
Sept 2014: The Rat and Ratchet, in Huddersfield, has been named the best cask ale pub in Britain by the Morning Advertiser. Well deserved too - the pub is almost perfect. It has a good mix of Ossett, Rat and other local beers, is cosy and attractive inside, has friendly staff and a great jukey.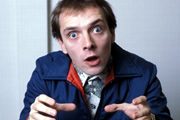 OH RIIIIIK!
You could say Rik Mayall only shouted and pulled faces - but what shouting, what faces!
He was a naturally funny comedian who made you laugh as soon as you saw him: he deserves to be mentioned alongside greats such as Tommy Cooper.
Rik was like a human cartoon character, pulling exaggerated expressions and stealing almost every scene he was in - even alongside great actors/characters in the Young Ones and Blackadder.
His work in the Young Ones and Dangerous Brothers was thrilling and often unexpected, while he played a more bit part role in the Comic Strip - his David Coverdale-esque, fruity voice in Bad News was probably his finest moment in that series.
For me, the Kevin Turvey sketches were among his best work and are perhaps overlooked now - the expressions, the silly wordplay (Kevin's 'ere/ear) and the silly voice.
RIP Rik
Kevin Turvey:
https://www.youtube.com/watch?v=_CpHEqxy1jM
Young Ones: People's Poet
https://www.youtube.com/watch?v=QE2_uqLpBXU
Morrissey book review
He submitted an episode of Coronation Street which ended with Ena Sharples saying: 'Do I really look like a fan of X Ray Spex?'
My Manchester Evening News column -
matinee gigs for the over-40s
Triumph amid the tears: Badly Drawn Boy review, Manchester Evening News
The best guide to find pub righteousness, the
Good Beer Guide,
is out. There are no changes in Huddersfield and Bradford but quite a few in Leeds and Manchester.It also features a West Yorkshire village I've never heard of before - Goose Eye.
Hudds
has Grove, King's, Rat, Slubbers, Sporters, Star, Vulcan and White Cross in the good book.
Elsewhere in Kirklees the gaudy and loud Brambles is a newy in
Holmfirth
(the Nook's still in from last year). The Flowerpot in
Mirfield
is another newy, joining the town's Navigation and Old Colonial. The Pear Tree drops out.
Dewsbury
loses the Huntsman and Shepherd's (West Riding and Leggers still in )
In
Bradford
, entries are the Castle, City Vaults, Corn Dolly, Fighting Cock, Ginger Goose, Haigy's, New Beehive, Sir Titus Salt and Sparrow.
In
Leeds
, in come the Friends of Ham (hip but nice), Ship (forgettable), Stick or Twist (Wetherbarn), Templar (a classic old boozer full of classic old boozers). Still in are Hop, Foleys, North, Palace, Scarborough, Veritas, Victoria, Whitelocks.
Away from Leeds centre, Fox and Newt in
Burley
, Arcadia, in
Headingley
, and the Grove and Midnight Bell, in
Holbeck
are still in.
In
Halifax
, the smashing and revamped Shears is in but Dirty Dicks and New Prospect depart. Still in are Big Six, Sportsman, and Three Pigeons. Elsewhere in Calderdale, the Barge and Barrel, in
Elland
, returns to the book (Drop Inn still in from last year).
Todmorden's
newie is Calderdale pub of the year and piemaster the Masons, joining the Polished Knob and Staff of Life.
Splendid
Sowerby Bridge
still has the Jubilee, Puzzle, Shepherd's and Works but loses the White Horse.
The lovely Crescent, in
Ilkley,
is a newie (along with regular Bar T'at). The Fleece falls out in
Otley
but town's Bowling Green, Horse and Farrier, Junction and Old Cock are still in.
Manchester
newbies are the Crown and Kettle (which is looking a little smarter than a year ago ), Font (studenty), Joshua Brooks (ditto), Molly House, Rising Sun (a bit characterless), and Wharf (ditto). Out are Wheatsheaf, Smithfield, Piccadilly, Peveril, Old Wellington, Jolly Anglers. Still in are: Angel, Bar Fringe, Cask, Castle, City Arms, Knott, Marble Arch, Micro Bar, Paramount, Port Street, Sandbar, Waterhouse.
A few changes in real ale/craft beer hotspot
Chorlton
. Beech Inn, Marble Beer House, Parlour and Sedge Lynn are new entries, joining Bar, Electrik and Pi. Out go Horse& Jockey and Oddest.
Salford's
Crescent drops out of this year's Guide but another old favourite the KIng's Arms is back in. The Eagle is another new entry. The Mark Addy and New Oxford stay in from last year. The Racecourse and Star drop out.
Tameside is good for an ale crawl with
Hyde, Mossley and Stalybridge
each having four entries. In Hyde - Cheshire Ring, Godley hall (new), Queen's Inn and Sportsman. Mossley has Britannia, Commercial (new), Dysarts and the Rising Sun, while Stalyvegas has the Society Rooms (new), Labour Club (new), Refreshment Rooms and the White House.
They've reorganised the
Sheffield
entries, creating a new Kelham Island section featuring Fat Cat, Harlequin, Kelham Island Tavern, Riverside, Shakespeares, Ship Inn, and Wellington. Most of these pubs used to be in the central section which now features the Bath, Dev Cat, Henry's, Hop (a newie), Old House, Red Deer, Rutland, Sheff Tap. A newie in Shef South is the splendid Broadfield, ex-student grothole now very nice for food and ales. The best pub in Sheffield, the Sheaf, is still in the south section.
Loads of changes in
York
with some great pubs dropping out, such as the Golden Ball, Three Legged Mare and Blue Bell. Guy Fawkes and Rook&Gaskell are also out. In come Old White Swan, Pivni, Snickleway, Volunteer and York Tap, joining regulars Brigantes, Maltings, Minster, Phoenix, Slip, Swan and Waggon&Horses.
In Wakefield, new entries are an old favourite, Henry Boons, plus the Inns of Court. Regulars are Alverthorpe, Black Rock, Bull and Fairhouse, Fernandes, Harry's, Hop and Red Shed
PS Goose Eye is near Oakworth. The Turkey Inn is the entry - looks a corker.
The final 16 for Camra pub of the year have been chosen - Wales' champ is the Albion, see below. Yorkshire's is the Old No7, in Barnsley, decent but not spectacular. The Baum in Rochdale, reigning national champ, is Greater Manc pub of the year again And the national winner is Lanc-y pub Swan With Two Necks, Pendleton.
OLDER BITS


HYLDA BAKER: I speak without fear of contraception - you're sat sitting there supping while we should be going to Blackpool hallucinations.
BARNSTONEWORTH: Yorkshire Premier League 1922: Haggerty F, Haggerty R,Tompkins, Noble, Carrick, Robson, Crapper, Dewhurst, MacIntyre, Treadmore,Davitt.

BEST BREWERIES:
Where were the northern beers in the list of Great British Beer Festival winners in 2006? Were the judges all from Chiddingfold-on-Sea and used to watery, headless brews? Here's THE 10 best breweries.
BEST PUBS:
BOWLING GREEN, OTLEY:
Stuffed snarling badgers, gas masks and a skeleton were among the 3,500 items inside. The landlord, Trevor, was a rather forbidding character. It looked like you had to pull a thorn from his paw to get on with him.

NELL BRYDEN: She called me sweety when I bought her CD off her. I don't think anyone's called me sweety before - mind you I was dressed as a Mars Bar at the time.

TED CHIPPINGTON: Walking down the road the other day, this bloke came up to me and said: 'Can you tell me how far is to the railway station?' I said: (gruff voice): 'One mile.' He said: (gruff voice) 'One mile?' I said: (gruff voice) 'One mile - roughly speaking.'
CUD:
Was Carl's voice up for it? Would new guitarist Felix fill the considerable boots (Hey Boots!) of the assistant headteacher from Tadcaster? Would the band gel like the greasiest Ted? Yes, yes and yes! Carl bellowed like a moose, holding a note like Pavarotti. Felix is the indie Jimi Hendrix and the band were tighter than a gnat's chuff.
DOCK PUDDING:
People flocked to Cragg Vale to taste Doris Hirst's championship winning pudding
ROBERT ELMS:
Ludicrous clotheshorse
THE FALL:
A member of the opening act assaulted Smith with a half-eaten banana and the band played on while MES chased the banana-assassin into the parking lot, where a scuffle ensued.
GOOD BEER GUIDE HIGHLIGHTS
Forget all the other pub guides - unless you want to take your granny for Sunday lunch in an unbearably twee Cotswold village where they rethatched the roofs in 1973.Includes pubs in west Yorkshire, west Lancashire, Manchester, Sheffield and York.
RAY GRAVELL
There used to be/Detonations on the telly/It was Grav discussing rugby
There used to be/From the radio great warmth surging/Grav conversing.
VAL GUEST:
He hated Arthur Askey, but he made his directing debut with him in Miss London Ltd, about an escort agency. It probably wasn't that kind of agency,although, you never know - "A handjob Arthur?" "Well stone me!"
HALF MAN HALF BISCUIT:
I went to see the Bootleg Beatles as the bootleg Mark Chapman
HUDDERSFIELD:
Pubs, trains, beer, buildings (see index)
LEEDS:
Britain's most overrated city is just Wakefield with delusions of grandeur and good PR.
JEFFREY LEWIS:
He says he's not even a glass half-empty person, he's glass half-full - half-full of nothing. There's also some delightful rhymes - on one song about a dead pig he sings: "He's called Jonathan or Jason/It depends which way he's facin'"
LORD OF THE RINGS:
It's all completely huourless and is desperately in need of Brian Blessed SHOUTING LIKE HE DID IN FLASH GORDON. "HAWKMEN,DIIIIIIVE!" (When he was in his patrol car in Z Cars did he shout: "POLICEMAN, DRIIIIIVE!"?)
MARBLE GINGER
It's 'gingier' than Liverpool supersub David Fairclough in a carrot-top love-in with Tori Amos
STERLING MORRISON:
Interviewer:Is New Wave rock 'n' roll or is it folk?Morrison: I'm afraid it's folk singing and this pains me.
CHIC MURRAY:
It was raining cats and dogs. I stepped into a poodle.
NORTHERN FILM LOCATIONS:Hell is a City
- Grim Up North Noir with Stanley Baker as a copper so hard-boiled he's been left in the pan for a week.Everyone smokes. Trains stop at GMEX.Levenshulme, East Didsbury, Huddersfield, Medlock, Burnage, Withington andOldham are the other locations.
A Kind of Loving
- Alan Bates throws up on Thora Hird's carpet. Thora, in Dame Edna glasses, calls him a pig. Steep park where he gets Thora's daughter pregnant is in north Manchester, also Preston, Stockport, Salford.
ERIC OLTHWAITE:
It were always raining in Denley Moor, except on days when it were fine; and there weren't many of those - not if you include drizzle as rain. And even if it weren't drizzling, it were overcast and there were a lot of moisture in the air. You'd come home as though it had been raining, even though there had been no evidence of precipitation in the rain gauge outside the town hall.
PIES:
There's been a run on Hofmann's "growlers" since he won the World Cup of pies
REAL ALE TWATS:
'I'm remindful of The Lamb and Tuppence in Pontypridd, a splendid little pub which serves Bishop's Gleet'
JOHN SHUTTLEWORTH:
Go caravanning in Dyfed or Clwyd/Order a pizza and get it delivered/ How to be happy in a sad, sad world
SOUTH PENNINE DAY RANGER EXCURSION
Emley Moor mast follows you round like Mona Lisa's eyes
EDDIE WARING
A choirboy Kaiser Chief sang at his funeral
WIGAN INSULTS:
To someone who's ugly:Who knitted thi face an dropped a stitch?
To someone with a terrible memory:It's a good job thi balls are in a bag