CHRISTMAS TV AND RADIO HIGHLIGHTS


TV (Free channels only) A Kind of Loving (Dec 30, True Entertainment)

Bog standard free channel shows an absolute gem, including Thora Hird's fearsome specs

The Apprentice - The Final (Dec 21, BBC1)

Impressing the cockney gruffalo

A Shot in the Dark (Dec 26, C5)

Second Pink Panther film. One of the funniest

Charlie Brooker's 2014 Wipe (Dec 30, BBC2) Doctor Who (Dec 25, BBC1)

Excellent first Capaldi series but Who Xmas specials are usually duff. This one features Santa (ho-hum)

Frenzy (Jan 1, BBC2)

Plenty of Hitchcock films on BBC2 this Christmas. This later one is often overlooked but is still disturbing

Galaxy Quest (Jan 1, BBC1)

Excellent Star Trek spoof

Harry and Paul's Story of the 2's (Dec 27, BBC2)

Hilarious look at the history of BBC2 with Harry Enfield and Paul Whitehouse ('Pipes in, pencils out')

House of Fools (Dec 28, BBC2)

Vic and Bob's Christmas special

The Incredible Adventures of Professor Branestawm (Dec 24, BBC1)

Harry Hill stars in one-off show based on kids' books

John Le Mesurier: It's All Been Rather Lovely (Dec 20, BBC2)

Lovely doc - title refers to his dying words

Julie Walters: A Life on Screen (Dec 24, BBC2) The Look of Love (Dec 30, C4)

Steve Coogan is porn baron Paul Raymond

Marvel: Avengers Assemble (Dec 26, BBC1)

Superhero equivalent of tag team wrestling

Marvellous (Dec 25, BBC2)

Repeat of the heart-warming play about Neil Baldwin whose innocence and genial outlook lead to extraordinary opportunities

Masterchef: The Professionals (Dec 23, BBC2)

The final

Rik Mayall: Lord of Misrule (Dec 20, BBC2)

Profile of much-missed comedian, followed by Young Ones: Interesting ('Does anyone here like the Human League?')

Miranda (Dec 25 and Jan 1, BBC1)

Final episodes of the series starring the naturally funny comic who has been unfairly criticised for her 'old-fashioned' comedy. She's got a great comic face and times the pratfalls to perfection.

Muppet Christmas Carol (Dec 24, C4) Muriel's Wedding (Dec 25, C5)

You're terrible Muriel.

The Pirates In An Adventure With The Scientists (Dec 26, BBC1)

Aardman jollity

The Railway Children (Dec 22, ITV)

OAKWORTH!

Reservoir Dogs (Dec 29, C5)

Still astonishing, still unique

The Royle Family (Dec 23, BBC1)

2012 Christmas special

Serendipity (Dec 21, BBC2)

Fanciful but rather lovely romantic film

Skyfall (Dec 24, ITV)

TV premiere of Bond movie

That Day We Sang (Dec 26, BBC2)

Members of a former children's choir meet as adults. Based on Victoria Wood's play


Up (Jan 2, BBC1) Victoria Wood's Midlife Christmas (Dec 26, ITV)

The 2009 Xmas special

RADIO Barry Cryer's Christmas Selection Box (Dec 20, R4X)

Three-hour show features The Goons, Round the Horne and Radioactive, among others

Blackpool Night (Dec 23, R4X)

1963 variety show with Morecambe and Wise

Count Arthur Strong's Christmas Special (Dec 26, R4)

Written by Steve Delaney on his own, so hopefully no change of character to the watered-down TV Arthur

Dead Ringers (Dec 26, Jan 2, R4)

Great radio return - Farage especially.

Dr Who (Dec 22, R4X)

2011 tale with Tom Baker

Dr Who - The Lost Episodes (Dec 27, R4X) Junior Choice with Ed Stewart (Dec 25, R2) The Lady in Van (Dec 28, R4X)

With Maggie Smith and Alan Bennett

Live Hour - Rolling Stones, Leeds, 1971 (Dec 24, R6) Memories of a Cad (Dec 30, R4)

Roy Smiles play about a meeting between Terry-Thomas and Richard Briers in 1984.

Naughty Navy Show (Dec 24, R4X)

1965 Spike Milligan live show

The Reunion (Dec 25, R4)

Wallace and Gromit (really)

The Shuttleworths (Dec 24, Dec 25, Jan 2, R4X) Up the Pole (Dec 24, R4X)

Jimmy Jewell and Ben Warriss

HOORAY FOR HOLMFIRTH!

The excellent Holmfirth Film Festival returns on May 23-30 with a programme of Hollywood blockbusters, rare British films and some intriguing foreign language movies.

The festival really punches above its weight - what other town of this size would have such a variety of movies? There are over 60 screenings in pubs, village halls, churches and even a truck!

Highlights for me include: Alan Bennett's The Day Out, Enough Said, Filth, Inside Llewyn Davis, Local Film Night, Nebraska, Eric Portman film and talk, Pulp Fiction, Under Milk Wood, Wolf of Wall Street and - a 1947 Diana Dors cycling film set in Hebden Bridge (A Boy, A Girl and A Bike).

The marker pens have been flourished, the Christmas Radio Times has been marked and the programmes have been cross-referenced with the TV Times - yes it's Christmas telly. This year is dominated by a new Who and the return of Sherlock, and a key Christmas for Corrie with the (probable) departure of two major characters. Other new stuff includes Caitlin Moran's new sitcom and an Olivia Colman thriller. December 22

5.25pm Muppets and Lady Gaga at Christmas (C5)

9pm Homeland (C4)

Finale. Series has been implausible but thrilling

10.25pm Never Let Me Go (C4)

Boarding school hides shocking secret. Eerie sci-fi film, based on Ishiguro novel


December 23

10.50pm Raised By Wolves (C4)

Caitlin Moran and sister Kaz wrote this sitcom based on their teenage lives

December 24

12.10pm Manchurian Candidate (ITV4)

Brainwashing Commie plot to assassinate the President.Gripping.

1.10pm It's A Wonderful Life (C4)

Christmas favourite that hasn't been on terrestrial TV on this day for years

7pm Titfield Thunderbolt (BBC4)

Ealing comedy about saving a train line. Slightly dated

9pm IT Crowd (C4)

Last episode, plus fans' and writers' favourite episodes and a doc on the show

9.30pm Rising Damp (ITV3)

Christmas special

9.45pm Mel Smith: I've Sort Of Done Things (BBC2)

Tribute to late comic and director

11pm Planes, Trains and Automobiles (Film 4)

Steve Martin and John Candy as the tight ass and the aimiable slob struggling to get home for Thanksgiving. Wonderful comedy


December 25

3.10pm Lavender Hill Mob (Film 4)

Ealing comedy – meek bank clerk plans audacious robbery

4.35pm Muppet Christmas Carol (Channel 4)

Mice in shirts – always funny

7.30pm Dr Who (BBC1)

Goodbye Matt, hello Peter

10.15pm Whatever Happened to The Likely Lads (BBC4)

Christmas special

11.05pm Father Ted (C4)

7 episodes including Christmassy, 'lovely girls' and 'the Chinese: a great bunch of lads'

11.25pm The Troll Hunter (Film 4)

Norwegian horror thriller – big hairy trolls, not Troels

December 26

7.40pm Still Open All Hours (BBC1)

G-G-Granville's taken over the shop. Nurse Gladys is on hand

9pm Sightseers (Film 4)

Black comedy about caravans and killers. If it's anything like director Ben Wheatley's other films, this should be extremely unsettling

10pm Never Mind the Baubles: Xmas 77 with the Sex Pistols (BBC4)

Includes Julien Temple's footage of the Pistols' last UK concert which was in Huddersfield on Christmas Day

December 28

6.50pm Up (BBC1)

Touching and wonderful animated adventure

10.40pm Charlie Brooker's 2013 Wipe (BBC2)

Hangdog review of the year

December 30

2am The Abominable Snowman (BBC2)

Never seen this but it stars Peter Cushing and it's directed by Val Guest

11.25am Railway Children (ITV1)

Oakworth!

9.30pm The 13th Tale (BBC2)

Psychological mystery starring Vanessa Redgrave and Olivia Colman

Midnight Respect : A Felix Dexter Special (BBC2)

Tribute to the comedian


December 31

8pm Kind Hearts and Coronets (BBC4)

Ealing classic and classic Alec Guinness

10pm Kenneth Williams: Fantabulosa (Yesterday)

Michael Sheen is fabulous in play based on Williams' diaries

January 1

1.05am Toast of London

Clem Fandango! All six episodes of the sitcom with shouty Matt Berry as shouty ham actor surrounded by characters with silly names.

10.20am Who Framed Roger Rabit? (BBC1)

Pur-leeese!

9pm Sherlock (BBC1)

Two years after his death, the cocky bugger's back

9pm Glasgow Big Night Out (BBC2)

Performers' portrait of the city

11pm Arena: Ken Dodd – Happiness

2007 doc

January 2

11.35am Flash Gordon (Channel 4)

FLAASH MY OLD FRIEND!

January 3

10pm Drive (BBC2)

Crime thriller with Ryan Gosling, regarded as one of the best films of 2011

Hebden Bridge may have fancy London ways but I love it.

Most towns this size have a supermarket and a few charity shops. Hebden makes the most of its beautiful old buildings with

quirky and delightful shops. It still has a cinema

and a record shop

and also a great gig venue (Trades). A superb arts festival starts on June 23 and there's a chance to buy shares in a grand real ale pub as it (hopefully) becomes the first pub co-op
HEBDEN BRIDGE ARTS FESTIVAL HIGHLIGHTS

June 22

Tracey Thorn in conversation, Birchcliffe Centre, 7.30pm

Public Service Broadcasting. Dance to public information films. Trades Club, 9pm (sold out)

June 23

My Type of Town

Guided tour of the of the town centre's typefaces, Town hall, 1pm

Simon Armitage: Wordstones

Wordstones is a new trail along the Calder Valley, bearing words from young writers, carved by stone artist Pip Hall. This special event will feature a short reading from In Memory of Water by Simon Armitage, Town hall, 2.30pm

June 26

Daniel Kitson

One of the greatest comedians. Picture House, 7.30pm (sold out)

June 27

John Bramwell

I am Kloot genius. I remember him when he was Johnny Dangerously. Trades Club, 8pm. (sold out)

June 28

Thatcher Legacy

Talk by ex-Labour minister and witty writer Chris Mullin, Birchcliffe Centre, 7.30pm

June 29

The Alcohol Years

A wonderful documentary about lost youth. Carol Morley tries to piece together her wild life in 80s Manchester with the people who knew her at the time. Poignant, funny, shocking. Morley will discuss the making The Alcohol Years. This event also features some of the people who appear in the documentary. Interesting counterpoint to her brother's oop north memoir. Trades Club, 7.30pm

June 30

John Cooper Clarke

Far from crazy pavements...

Picture House, 8pm (sold out)
Holmfirth Film Festival
The festival gets bigger and better every year - a canny mix of old classics, Oscar winners and local films. Will Self, the former Wakefield Trinity scrum-half*, is the star attraction this year although there are plenty of other gems:
May 17:
Sightseers:
killer geeks in Yorkshire caravan parks, made by the man who did the unsettling Kill List, Picturedrome, Holmfirth, 10pm
May 18:
Night of the Demon:
inky black and white frights and the horrible idea of a curse that's almost impossible to get rid of. Foggy (Brian Wilde) goes mad. Cricketers Arms, Deanhouse, 7.30pm
May 19:
This Sporting Life:
cocky rugby league player ground down by the corporates in charge and the woman he can't quite win over. Paramount Cinema, Penistone, 2pm
Billy Liar:
Daydream believer who can't quite leave the security of his dull surroundings. Picturedrome, Holmfirth, 2pm. Billy Liar talk - 4pm, Brambles, Holmfirth
May 20:
Will Self:
Big-word, wolf-face talks about his adventures in Hollywood and his favourite films. Picturedrome, Holmfirth, 7.30pm *He wasn't Wakefield Triniy scrum half
Life of Pi:
A tiger called Richard in a boat. Oscar winner. Cricketers Arms, Deanhouse, 7.30pm
May 21:
Acoustic Routes:
The great Bert Jansch. Cricketers Arms, Deanhouse, 7.30pm

The Eschatrilogy: Book of the Dead:
Zombies in Barnsley. Paramount Cinema, Penistone, 9ish

May 22:
Beer Hunter - The Movie:
An intimate portrait of the former Huddersfield Examiner journalist, Michael Jackson, who was acknowledged to be the finest writer on beer. The Nook, Holmfirth, 7.30pm
CHRISTMAS TV A

ND RADIO

2012
December 23
6.30pm BBC2 Morecambe and Wise Xmas Show
1973, with Rudolph Nearenough
7.30pm Radio 4 Extra Horne of Plenty
Kenneth Horne doc plus first and last episodes of Beyond Our Ken and Round the Horne
7.35pm BBC2 Victoria Wood With All the Trimmings
2000 Xmas Special
8.30pm BBC1 Loving Miss Hatto.
Written by Victoria Wood, based on a true story about a classical music hoax
9pm Channel 4 Homeland
Climax of second series which at times has been thrilling and at other times has a feeling of 'let's-throw-everything-in-the-air-and-see-what-works'
9pm Channel 5 Bad Santa
A Christmas classic. Would you like some sandwiches?
11pm Channel 4 In Bruges
Superb and touching black comedy about hitmen

Christmas Eve
10.20am BBC1 Who Framed Roger Rabbit?
Toons
11am Channel 4 Muppet Christmas Carol
Best Christmas film
11am Film 4 Silent Running
Huey, Dewey, Bruce Dern and the last plants from Earth on a spaceship
8pm Channel 4 The Snowman and Snowdog
Long-awaited sequel to Raymond Briggs' classic
8.30pm BBC2 Ronnie Barker Night
Open All Hours, Porridge and a couple of docos
10pm Channel 4 Peep Show
Finale. A pale echo of previous series
10.30pm Channel 4 Friday Night Dinner
A simple, old-fashioned, superbly-acted sitcom
1.05am BBC1 Serendipity
Slightly ludicrous but endearing romantic comedy about chance encounters

Christmas Day
11.15am Radio 4 Extra A Resounding Tinkle
NF Simpson play starring Deryck Guyler as chosen by Eric Sykes
12 Radio 4 Extra The Goon Show
The last episode Eric Sykes co-wrote
5.15pm BBC1 Dr Who
Versus evil snowmen. These Crimbo specials aren't usually great but there's a chance to meet (or meet again?) Lord Time's new assistant, who may (or may not) be a Dalek
9.45pm The Royle Family
Unlike Who, these specials are usually great, but why aren't writers Aherne, Cash and Mealey given a chance to write something else?
1.05am Channel 4 Airplane
Don't call me Shirley
Boxing Day
9.25am ITV The Railway Children
Oakworth! OAKWORTH!
9pm BBC1 Miranda
A bit like Hylda Baker's tall sidekick Cynthia crossed with Norman Wisdom. That's all good, believe me
9pm BBC2 The Girl
Hitchcock (Toby Jones) becomes obsessed with Tippi Hedren (Sienna Miller)
9pm ITV Doors Open
Art forgery caper with Stephen Fry and Douglas Henshall. Based on the Ian Rankin novel
9pm Radio 2 Mike Yarwood: So This Is Him
Documentary
1.20am Channel 4 Airplane 2

December 27
3.25pm BBC1 Monsters v Aliens
Animated sci-fi comedy
1.25am Together
Wonderful and touching Swedish film
December 28
11.05am BBC2 The Lady Vanishes/39 Steps
Classic Hitch double. First up, no-one believes a train passenger when she claims another passenger has gone missing. Second, a man goes on the run when no-one believes he is innocent of murder

December 29
2pm BBC1 Olympics 2012
5.05pm BBC2 John Le Mesurier: It's All Been Rather Lovely.
His dying words apparently. A rather lovely doc on a rather lovely man
6.45pm BBC1 Superstars
No Wiggo v Murray but medal stars Mo, the Brownlee Bros, Nicola Adams and Katherine Grainger
11.10pm Channel 4 Wuthering Heights
Andrea Arnold version

December 30
9pm Channel 5
An Audience with Ken Dodd
What a wonderful evening for…
10pm BBC2 Moon
Enthralling and original sci-fi film

New Year's Eve
4pm Radio4 Roger, the Eagle Has Landed
Tribute to the man who founded Eric's club in Liverpool
8pm ITV4 Flash Gordon
GORDON'S ALIVE! Blessed B
9.30pm BBC4 Numb: Simon Amstell Live
11.10pm Film 4 Sexy Beast
Sweaty Ray v Sweary Ben

New Year's Day
6.30pm BBC1 Up
Wonderful
7.30pm Channel 4 Frankie Howerd: the Lost Tapes
10.45pm Animal Kingdom
Aussie crime drama
Jul 12: I love the Olympics. I love watching sports that I never usually watch. I love the fact that a lot of the participants are part-timers putting in years of effort with little financial reward.
And that's what the Olympics are about – not the sponsors with their ridiculous exclusivity rules, not the hopeless private companies, not the whingeing Londoners still complaining despite the huge investment in a shitty part of their city, and not the contrast with Olympic spending and the Tory spending cuts.
If you're going to have the Games, do it properly - they bring joy to millions and comparing spending on sport to, say, the NHS is like comparing cheese and string. You're never going to find a cure for cancer with all the money from the Games. And who is to say an ill person might have their spirits revived by a memorable moment in the Games, in the same way as they are inspired by a wonderful work of art?
Danny Boyle's opening ceremony is a case in point - an inspirational work of art, celebrating the quirkiness of the country (and northernness of the country - Corrie, Kes, Brookside, Arctic Monkeys, industrial revolution, suffragettes, St Helens motto)
You may not like sport, fair enough. But please don't bore me by making a big point of how you are not going to watch the Olympics. It's two weeks every four years, I really don't care if you're painting the shed to avoid the Olympics.
Some of the sports are bobbins, of course, sailing (wind and leaning – like me after the ale), gymnastics (skinny circus acts), synchronised swimming (skinny smirkers), show jumping (trot on Squiffy!), basketball (bounce, bounce, score, bounce, bounce, score), football (disappointing oafs) and water polo (wet mints).
So here are my highlights - five or six events a day with GB medal prospects. I've struggled to find one place which has all the key events - the Radio Times probably has the best guide.
Dates, sports (and GB medal prospects – most events on BBC1, BBC3 or 301)
Saturday July 28
10am start – 4pm finish Cycling – men's road race (Mark Cavendish backed by up the mighty Wiggins)
11am-8pm Tennis, first round
7.20pm Handball (women) GB v Montenegro (curious to see first match)
8.10pm Swimming – 400m individual final (Hannah Miley)

Sunday July 29
Noon-4pm Cycling – women's road race (Nicole Cooke and Lizzie Armistead)
7pm Hockey (women) – GB v Japan
7.30pm Swimming – 100m butterfly (Ellen Gandy)
8.15pm Swimming - 400m freestyle (Rebecca Adlington)
Monday, July 30
12.30pm Weightlifting (Zoe Smith)
3pm Diving Synchronised (Tom Daley and Peter Waterfield)
7pm Hockey (men) GB v Argentina
7.50pm Swimming – 100m backstroke (Liam Tancock and Gemma Spoforth)

Tuesday July 31
9.30am Judo 81 kg (Euan Barton)
3.05pm Canoeing – Slalom men's single (David Florence)
4pm Hockey (women) – GB v South Korea
840pm Swimming – Women's 200m ind medley (Hannah Miley

Wednesday August 1
10.10am Rowing – Women's Pair Final (Glover and Stanning)
12.20pm Cycling – Time Trial (Emma Pooley)
2.15pm Cycling – Time Trial (Wiggins! Wiggins! Wiggins! - and Froome)
3.15pm Canoeing – Kayak (Richard Hounslow)
4pm Hockey – men GB v South Africa
8.10pm Swimming – women's 200m butterfly (Ellen Gandy)
Thursday, August 2
11am- 8pm Tennis, men's quarter-finals (Andy Murray)
12.25pm Badminton, mixed doubles semi-finals (Adcock and Bankier)
3.15pm Canoeing _ Doubles final (Florence and Hounslow)
6pm Cycling – Women's Team Sprint (Pendleton and Varnish)
6.15pm Cycling – Men's Team Sprint (Hoy, Kenny, Hindes)
7pm Hockey – women GB v Belgium
8.35pm Swimming – Women's 100m freestyle (Fran Halsall)

Friday, August 3
8.55am-5.10pm Badminton: mixed doubles bronze medal match and final
10.05am Athletics – Heptathlon (Jessica Ennis)
12.10pm Rowing – women's double sculls (Watkins and Grainger)
1.45pm Tennis – men's semis (Andy Murray)
4pm Hockey – men, GB v Pakistan
6pm Cycling – men's team pursuit
6.40pm Cycling – women's keirin (Victoria Pendleton)
7.45pm Swimming – women's 800m freestyle (Rebecca Adlington)

Saturday August 4
9am Triathlon (Helen Jenkins)
10.30am Rowing – Men's Four
12.10 Rowing – double sculls
12.30pm Athletics – 100m heats
4pm Hockey – women GB v China
5.40pm Cycling – Women's team pursuit
7.30pm Swimming - 50m freestyle (Fran Halsall)
7.55pm Athletics – long jump (Greg Rutherford)
8.35pm Heptathlon final event (Jessica Ennis)
9.15pm Athletics - men's 10,000m (Mo Farah)
Sunday August 5
11am Women's marathon (Paula Radcliffe?)
2pm Tennis – men's singles final (Andy Murray?)
6.10pm Cycling – omnium ends (Ed Clancy)
7pm Hockey – men GB v Aus
8.30pm Boxing quarter-finals
9.10pm Athletics – women's 400m (Christine Ohuruogu)
9.50pm Athletics Men's 100m final
Monday August 6
2.50pm Gymnastics – women's uneven bars (Beth Tweddle)
5.40pm Cycling – men's track sprint (Jason Kenny)
7pm Athletics – women's pole vault (Holly Bleasdale)
7pm Hockey – women GB v Netherlands
8.45pm Athletics – men's 400m hurdles (Dai Greene)
Tuesday August 7
11.30am Triathlon (the Brownlee brothers)
5pm Cycling – end of the omnium (Laura Trott)
5.25pm Cycling - women's sprint (Victoria Pendleton)
5.50m Cycling – keirin (Chris Hoy)
7pm Athletics – high jump (Robbie Grabarz)
7pm Hockey – men GB v Spain

Wednesday August 8
9.40am Canoeing – K1 1000m (Tim Brabants)
2pm Boxing – women's semis
3.30pm Hockey – women's semi
8pm Hockey – women's semi
8.25pm Boxing – men's quarter-finals
8.45pm Athletics – women's 400m hurdles (Perri Shakes-Drayton)
Thursday August 9
Noon Swimming – women's 10km (Keri-anne Payne)
3-10.15pm Taekwondo – women's 57k (Jade Jones)
3.30pm Hockey – men's semi
4pm Boxing – women's finals
7.20pm Athletics – men's triple jump (Philips Idowu)
8.55pm Athletics - men's 200m

Friday, August 10
Noon Swimming – 10km (Daniel Fogg)
2pm Boxing – men's semis
3.30pm Hockey – women's bronze medal match
4.30pm Cycling –BMX (Shanaze Reade and Liam Phillips)
8pm Hockey – women's final
8.25pm Boxing – men's semi finals
8.55pm Athletics – women's 1500m (Hannah England)
10.15pm Taekwondo – women's 67k (Sarah Stevenson, semis are at 5pm)

Saturday, August 11
9.35am Canoeing – men's kayak 200m (Ed McKeever)
10.45am Canoeing – men's kayak doubles
3.20pm Hockey – men's bronze medal match
7.30pm Athletics – 5,000m (Mo Farah)
8pm Hockey – men's final
8.30pm Diving – men's platform (Tom Daley)
8.30pm Boxing finals
Sunday August 12
8am-6pm Modern pentathlon (Mhairi Spence)
1.30pm Boxing finals
Holmfirth Film Festival
returns on May 19-26 with an imaginative mix of old and new films in unusual venues and some intriguing talks.
Highlights:
May 20:
Shirley Anne Fields at the Picturedrome (4pm talk, plus rare film Lunch Hour at 1pm and Peeping Tom)
Simon Armitage introduces his favourite film White Silence, made in 1924 about Scott's trip to Antarctica (Picturedrome, 7.30pm)
Red Dog/The Guard (Upperthong Village Hall, from 7pm)
May 21:
Local Film Night including We Of The West Riding, directed by Ken Annakin in 1945 (Picturedrome, 7.30pm)
May 22:
David Hockney documentaries (Picturedrome, 7pm)
May 23:
Little Malcolm And His Struggle Against the Eunuchs - rare showing of 1974 film starring John Hurt, written by Huddersfield's David Halliwell and filmed in the town (Brambles, 3pm)
May 24:
A Kind of Loving (1pm), followed by talk on British New Wave (Brambles)
Joan Bakewell's favourite films (Pictuerdrome, 7.30pm)
May 25:
The London Nobody Knows with James Mason (Brambles, 1pm)
May 26:
Mod night: Joe Allison band and sixties tunes from a DJ (Brambles, 9pm)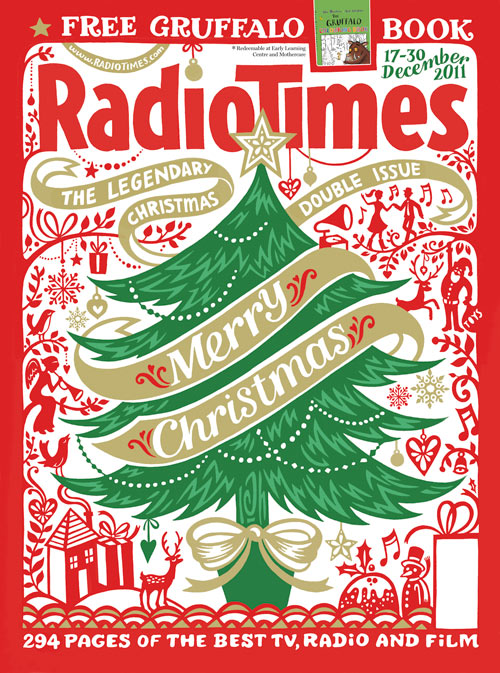 TV CHRISTMAS HIGHLIGHTS
Dec 11: Some youths may be playing with their new Call of Nature computer games this Christmas, but television still holds a central part of the festive period for me, if only to drown out the post-sprout trumping and crackle of purple Quality Street wrappers. So here are my highlights, all from Freeview, including some you might have missed from the small print.
Andy Williams Christmas Show (Dec 22, BBC4)
Looks like a skinny Kirk Douglas now, sings like a dream. Can't Take My Eyes Off You was a big hit at our wedding.
Bad Santa (Dec 21, C5)
Would you like some sandwiches? Billy Bob Thornton is a revolting shop Santa whose life is gradually transformed by a bullied child.
Ben Elton: Laughing at the 80s (Dec 28, C4)
Ben Elton's quiet these days – does he feel too compromised about attacking Cameron? Anyway let's hope this 'best of' features The Dangerous Brothers and Kevin McAleer's fabulous owls routine.
The Big Heat (Dec 19, BBC2)
Classic Fritz Lang film noir.
The Big Lebowski (Dec 19, Dave)
Some of the greatest movie characters of all time flounder around in a daft Chandleresque plot.
Bill Bailey: Dandelion Mind (Christmas Eve, C4)
Bleak Old Shop of Stuff (Dec 20, BBC2)
Peep Show blokes, Katherine Parkinson, Stephen Fry, Pauline McLynn, Johnny Vegas, Celia Imrie in Dickensian spoof.
The Borrowers (Boxing Day, BBC1)
Victoria Wood, Stephen Fry and Christopher Ecclestone. If it wasn't for the cast, I wouldn't bother.
Catherine Tate: Laughing at the Noughties (Dec 19, C4)
Best comedians of 21st century
Come Dine With Me Comedians Special
with Sean Hughes and Duncan Norvelle(!) (Dec 23, C4)
Comic Strip Presents…The Hunt for Tony Blair (Dec 29, C4)
Cor Blimey (Dec 27, C5)
Based on the stage play about Sid James and Barbara Windsor's affair.
Dr Who (Christmas Day, BBC1)
Has there ever been a decent Xmas special? This one doesn't sound promising – a Lion Witch and Wardrobe malarkey.
Father Ted: Unintelligent Design plus Small and Far Away – World of Father Ted.
Two Ted docs. Plus Milkman and Brennan Up The Arse episodes (Christmas Eve, More 4, Boxing Day, C4).
Greatest Ever Carry On Films (Dec 27, C5)
Gruffalo's Child (Christmas Day, BBC1)
Hope it's as good as the first one.
Imagine: The Art of Stand-Up (Dec 20/21, BBC1)
UK and US comedians on their backgrounds and formative influences.
Inbetweeners: Top 10 moments and Series 3 (Dec 23, C4).
The Killing 2: Double finale (Dec 19, BBC4)
Where is TROELS?
Lapland (Christmas Eve, BBC1)
Sue Johnson in 'heart warming comedy' about Birkenhead family who search for Santa.
Le Donk and Scor-Zay-Zee (Dec 23, C4)
This could be the last time Paddy Considine appears in a Shane Meadows film for a bit as the former's directing career takes off. Considine plays a rapper's roadie Filmed in five days with no script.
Man Who Would Be King (Dec 28, BBC2)
Caine and Connery become gods in an ancient kingdom. Then it all goes tits up.
Many Faces of Les Dawson, followed by Best of Les Dawson (Christmas Eve, BBC1)
. Great comic wordsmith, wonderful delivery. Could be the Christmas programme of the year.
Miranda (Dec 23, BBC1)
Last year's Xmas special.
Morecambe and Wise:
1980 show (Dec 23, C5), Christmas compilation (Christmas Eve, BBC1) 1971 show (Christmas Day, BBC1) 1976 show (Boxing Day, BBC1).
Muppet Christmas Carol (Christmas Eve, BBC1)
Best version of Scrooge, best Muppet film. Muppets Take Manhattan (Dec 19, C4)
Pat and Margaret (Christmas Eve, Yesterday)
Probably the best Wood and Walters play. Lancs lass and her famous sister.
Railway Children (Dec 29, ITV)
Oakworth! Oakworth!
Ratatouille (Christmas Day, BBC1)
Acclaimed Pixar animation
Rising Damp Christmas Special (Dec 22, ITV3)
Rita, Sue and Bob Too (Dec 19, More 4)
Bawdy and bleak.
The Royle Family (Dec 21, BBC1).
Last year's Xmas special.
Sarah Palin – You Betcha (Dec 27, More 4)
Nick Broomfield tries to track down the potential leader of free world.
Simon Amstell: Do Nothing Live (Dec 22, ITV3)
Star Trek 1,2,3 (Dec 19, Film 4) New Star Trek (Dec 20, Film 4) Star Trek First Contact (Dec 28, C4)
. Serenity, which is like a classic Star Trek episode, is on Dec 22, ITV1
Tommy Cooper's Christmas (Dec 23, C5) Untold Tommy Cooper (Dec 28, C4)
Tropic Thunder (Dec 27, BBC1)
Robert Downey Jr steals the show in this spoof of war movies and method actors.
Victoria Wood: Seen on TV. (Boxing Day, BBC2)
Greatest hits
While The City Sleeps (Dec 22. BBC2)
Fritz Lang film. Journos try to crack murder case.
Who Framed Roger Rabbit? (Dec 19, BBC1)
Just fabulous – only disappointment is that Daffy Duck doesn't twat Donald.
You Have Been Watching David Croft (Dec 27, BBC2)
Tribute to writer of classic sitcoms.
HOLMFIRTH FILM FESTIVAL
May 11: The second festival looks to have come on leaps and bounds from the first, with imaginative choices, exclusive appearances and the best of local and international films Highlights include:
Celebrating the films and music of Nico
I still can't quite believe Nico visited Holmfirth for walking tours and that a memorial service was held at nearby St Johns, Upperthong (tonight's venue), attended by Compo! Set against the backdrop of her films for Andy Warhol and Frederico Fellini, local artists and musicians – Catrin Morris, Michael Massey, L'Etranger and Napoleon 111rd – play Nico songs from the Velvets period and her solo career.
May 22, 8pm
A Taste of Honey with Rita Tushingham
The screening will be followed by a Q&A session with Rita. Picturedrome
May 26, 7pm (A talk about Women in 1960s British Film, is on the same day at the Old Bridge, 1pm)
Brassed Off – Film, Q&A and brass band
The Yorkshire Traction Honley Band will play favourites from the film in the Old Bridge Hotel Car Park from 1pm on May 22. Following the screening at the Picturedrome at 2pm, the film's writer/director, Mark Herman, will take part in a Q&A (4pm)
Hell is a City
Absolutely superb Manc noir (and a bit of Marsden) with Stanley Baker as copper so hard-boiled he's been left in the pan. Old Bridge Hotel
May 26, 2.30pm
Stories From The Nook
Premiere of Matthew Wetherill/David Birtwhistle/Ross Birk's Stories from the Nook in which employees talk about this renowned drinking establishment's history and what this longstanding Holmfirth institution means to them.
May 21, 9pm, The Nook
Recent releases:
Submarine (May 21, Picturedrome, 7.30pm)
Winter's Bone (May 22, Upperthong Village Hall, 7.30pm)
Skeletons (May 24, Old Bridge Hotel, 2.30pm)
Of Gods and Men (May 25, Holmfirth Parish Church, 8pm)
Another Year, Picturedrome, May 27, 2.30pm
Animal Kingdom, Hepworth Village Hall, May 27, 7pm
True Grit, Picturedrome, May 28, 6.30pm
Local Film Night:
A collection of short films about the Holme Valley, including a tribute to the late Derek Bamforth, grandson of the founder of Bamforth films, head of the postcard firm and the post-war manager of the Holme Valley Cinema. Plus the premiere of a documentary on the prolific film-maker and recorder of local events from the 1930s to the 1980s, Miss Lockwood. The Festival's Local Short Film Competition winner
(May 23, Picturedrome, 7pm)
Films from The Colne Valley
A selection of the films from the 1930s to the 1960s of Linthwaite teacher and cine-camera pioneer, Lucy Fairbanks. Plus the charming community produced film of last year's harsh winter, Frozen Valley, by Colne Valley film-maker, Beverley Addy.
(May 24, Old Bridge Hotel, 1pm)
MIK ARTISTIK - THE MOVIE!
March 11: There's a chance to see the half-hour movie about the great comic singer and artist Mik Artistik at the Hyde Park Cinema, in Leeds, on Sunday March 13, from 8.30pm.
Films of his gigs, exhibitions and a bit about his life. Plus a gig by Mik and his band afterwards.
He's also on at the Zephyr, in Huddersfield, on March 24 and Puzzle Hall, in Sowerby Bridge, on April 2.
Here are some songs by the great man
Secret Cloak of Invisibility
Sculpture Workshop
Turning into Dad
PETE POSTLETHWAITE RIP
Jan 11: Shocked to hear about Pete Postlethwaite's death at only 64. His presence always lifted mediocre films (Among Giants - love among the pylon painters), while he stood out in great films with strong casts (The Usual Suspects - genuinely scary).
His greatest role was probably in Brassed Off, where he played the doughty brass band conductor. It contains one of the saddest scenes in film, below. I really liked him in When Saturday Comes, in which he plays a similar mentor role, an underrated film and Sean Bean's best, let down by the ridiculous final football match scene.
Postlethwaite had great presence, with his unwavering stare and lived-in face, but he was also very believable - whether scrapping dinosaurs in the Jurassic Park sequel or falling in love with a younger woman in Among Giants.
RIP Mr Postlethwaite.
BEST OF CHRISTMAS TV 2010
No outstanding new shows to look forward to this year, but plenty of old favorites - The Goodies, a Peep Show night and Apprentice final. BBC4 is slightly disappointing -no special music nights or film seasons.
ACCUSED Last in the series of Jimmy McGovern's emotional dramas, Dec 20, BBC1 9pm AN AUDIENCE WITH VICTORIA WOOD Dec 29, ITV3, 11.20pm ANDY WILLIAMS CHRISTMAS SHOWS Underrated crooner. Shows from 1962-1974. Dec 23, BBC4, 8pm APPRENTICE The Final 'I'm not a one-trick pony, I'm a whole field of ponies'. It can't be Baggs The Brand to win, surely? Dec 19, BBC1, 9pm BLACKADDER 'I'm strangely attracted to you….Bob'. Rowan Atkinson makes one word sound hilarious. Dec 18, BBC2, 8.40pm. Blackadder Christmas Carol, Christmas Day, BBC2, 8.35pm THE CONVERSATION Professional wiretapper gets worried by a conversation he hears and the people he's eavesdropping on. Complex, edgy film, starring Gene Hackman. Dec 23, Film 4, 10.50pm DIE HARD Aged well. Dec 19, Film 4, 9pm. Die Hard 2, Boxing Day, Film 4, 11.20pm. Die Hard 4.0, Dec 27, Film 4, 9pm DR WHO Michael Gambon is Scrooge-esque and the Doctor one of the 'ghosts'. Christmas Day, BBC1, 6pm EDDIE WARING: MR RUGBY LEAGUE Another showing of a great documentary. Dec 28, BBC4, 2.05am FAREWELL MY LOVELY Dick Powell as Philip Marlowe, hired by a huge ex-con, Moose, to find his girl. Superb adaptation of Raymond Chandler classic, Boxing Day, BBC4, 10.40pm FATHER TED Series one, More 4, Dec 18, from 10.05pm. Christmassy Ted, Channel 4, Dec 19, 11pm. 'The Chinese – a great bunch of lads' and three other episodes, New Year's Eve, Channel 4, 11.40pm GOMORRAH Drama set in Naples showing how the mafia corrupts everyone. Dec 29, BBC4, 10pm THE GOODIES Episodes shown from Dec 22-30 late on BBC2. A lot of it hasn't aged well, but two episodes have – Kung Fu Capers (t' noble art of t' Ecky Thump), Dec 23, 11.30pm and Beanstalk, Dec 24, 12.25am HAIRY BIKERS Mums Know Best at Christmas, BBC2, 8pm. 12 Days of Christmas, Dec 20, BBC2, 1.15pm A HISTORY OF HORROR Mark Gattiss's superb review - from Lon Chaney's make-up to Chainsaw Massacre. Dec 29, 30 and 31, BBC4, 1.10am, 1.30am and 1.10am I AM LEGEND Will Smith is the last man on Earth after a virus turns everyone else into vampires. Dec 28, ITV1, 9pm IMAGINE: RAY DAVIES Dec 21, BBC1 10.35pm THE INBETWEENERS Series One. Boxing Day, E4, from 10pm. Series two, Dec 27, E4, from 10pm. Series three. Dec 28, E4, from 10pm JUNO Deadpan, wisecracking 16-year-old girl gets pregnant. Funny and moving. Great performance by Ellen Page, Dec 23, Film 4, 10.50pm LANTANA Clever Aussie murder-mystery in which you are never quite know who's been killed and who the killer is. Dec 23, Channel 4, 1.25am LOOKING FOR ERIC One of Ken Loach's best – Eric Cantona helps a Manc postman with his miserable life, Dec 21, Film 4, 9pm THE MAN WHO WOULD BE KING Caine and Connery up to no good. Christmas Day, BBC2, 12.55pm THE MANY FACES OF ALISON STEADMAN Dec 24, BBC2, 9.55pm MIRANDA She's the female Tommy Cooper, the 21st century Norman Wisdom. Christmas special, Dec 20, BBC2, 8.30pm MUPPET CHRISTMAS CAROL Hilarious (eg: dancing mice in Hawaiian shirts) - and manages to convey the spirit of the story. Michael Caine gives one of his best performances. Christmas Day, Channel 4, 8.50am NO COUNTRY FOR OLD MEN Javier Bardem is a terrifying killer and Josh Brolin a chancer who should never have gone back to the crime scene in Coen Brothers' classic, Boxing Day, Film 4, 9pm PEEP SHOW Documentary, new episode, and viewers' favourite episodes (Jeremy's magic mushroom party and Mark's wedding). Christmas Eve, Channel 4, from 9pm. The final episode of the latest series is on New Year's Eve, Channel 4, 10pm THE RAILWAY CHILDREN Starring the Keighley Worth Valley railway in a genuine tear-jerker. Boxing Day, ITV1, 12.15pm RED RIDING Ho-ho-ho! Christmas cheer in which noble coppers are overwhelmed by brutal murders, corruption and bleak West Yorkshire housing estates. Top acting, compelling, but tough to watch. Part 1 – Dec 21, More4, 10pm, Part 2 – Dec 22, More 4, 10pm. Part 3 – Dec 23, More 4, 10pm THE REMAINS OF THE DAY Anthony Hopkins as Stevens the butler who looks back at his life of service and his lost love. Hopkins is superb as the uptight servant who hints in a suppressed sob that he may just have wasted his whole life. Christmas Day, Channel 5, 4.25pm THE ROYLE FAMILY A rare duff episode last Christmas. Let's hope this year's matches the Tom Courtenay 'Bar-bear-a' one of two years ago. Christmas Day, BBC1, 9pm SHOOTING STARS Christmas special with Ronnie Wood, Dec 30, BBC2, 10pm SPIRITED AWAY Fantastic dream-like Japanese animation about a little girl who has to deal with a house of spirits after her parents are turned into pigs. Talking heads, underwater trains and giant sludge monsters. Dec 21, BBC2, 10.40am STEVE COOGAN AS ALAN PARTRIDGE AND OTHER LESS SUCCESSFUL CHARACTERS From his last live tour, in 2008, when he got a bit of a hammering from the critics. TOAST Based on Nigel Slater's autobiography. Dec 30, BBC2, 9pm TOM JONES AT THE BBC Sir Leather Lungs rips it up, especially in the late 60s, in this compilation of his BBC performances. Includes bizarre Jim'll Fix It episode. Dec 18, BBC4, 11.45pm WHATEVER HAPPENED TO THE LIKELY LADS? 1974 Christmas special. Boxing Day, Channel Five, 9pm WHEN HARVEY MET BOB D Drama about how Bob Geldof and Harvey Goldsmith pulled off Live Aid. Boxing Day, BBC2, 9.15pm WHO FRAMED ROGER RABBIT? Bob Hoskins holds his own with a host of toon greats, from Betty Boop to Bugs. Boxing Day, BBC1, 9.45am YOUNG FRANKENSTEIN 'It's FrankenSTEEN!' Gene Wilder and Marty Feldman are hilarious in this spoof of 30s horror films. Christmas Day, Film 4, 11.35pm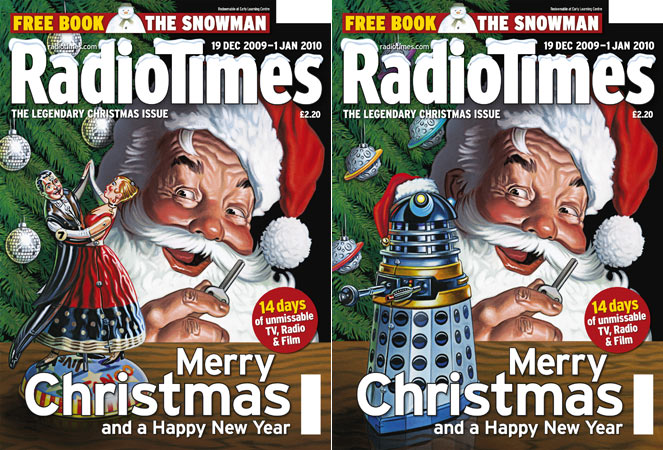 BEST OF CHRISTMAS TV 2009
Dec 09: For the second year running there are no Basil Rathbone Sherlock Holmes films, especially galling as virtually every other adaptation of Holmes is on over Christmas. Highlights on Freeview - Steve Coogan and Victoria Wood nights, Oliver Postgate documentary, a new Day of the Triffids and, of course, Tennant's last hurrah in Dr Who.
BLACK BOOKS:
First two episodes of comedy series starring miserable bookshop owner played by Dylan Moran and his gormless assistants Bill Bailey and Tamsin Greig. New Year's Eve, 9.35pm and 11.05pm. A bit of a Graham Linehan night, he co-wrote this and Father Ted and IT Crowd which are also on E4 on New Year's Eve.
A CHILD'S CHRISTMASES IN WALES:
Inspired by a Dylan Thomas story, set in the 1980s, and starring Ruth Jones. December 24, BBC4, 7.15pm and December 30, BBC2, 5.30pm
AN ENGLISHMAN IN NEW YORK:
John Hurt returns as Quentin Crisp, 34 years after he appeared as Crisp in The Naked Civil Servant. A very un-ITV programme these days. December 28, ITV1, 9pm
BACKBEAT:
Terrific recreation of The Beatles' early years in Germany with Stuart Sutcliffe. Ian Hart steals the show as John Lennon. December 27, Film 4, 10.55pm.
BLADE RUNNER:
The version director Ridley Scott wanted which I think means no happy ending. December 19, BBC1, 9pm.
BUZZCOCKS DR WHO SPECIAL:
It's a very Tennanty Christmas this year. Besides this and you know what, his Hamlet is showing and he's on Alan Carr's chat show. Catherine Tate and Bernard Cribbins are also on Buzzcocks - cue Right said Fred question for Mr Cribbins. December 22, BBC2, 9.30pm.
CHARLIE BROOKER'S SCREENWIPE:
Review of the year from Mr Angry (but is he mellowing now he's getting more famous?) December 22, BBC4, 10.30pm.
THE DAY OF THE TRIFFIDS:
This looks promising - new version of John Wyndham's tale about killer plants who thrive when most of humanity goes blind. Good cast - Dougray Scott, Joely Richardson, Eddie Izzard, Brian Cox, Vanessa Redgrave, Ewen Bremner. December 28, BBC1, 9pm. Part 2 on December 29, BBC1, 9pm.
DR WHO:
So no more wide-eyed cheekiness and nonchalance from Mr Tennant. It's a showdown with the Master (John Simm), starting on Christmas Day and ending on New Year's Day, and then it's the young fella's turn. Even though it's Christmas, let's hope Tennant and Simm rein in the ham when they perform. No Daleks and Cybermen in the cast list (I couldn't spot Derek Dalek and Sir Terry Cyberman), although a Dalek is on the front cover of the Radio Times and if it's a big ending for Tennant, one or both surely has to be on. Christmas Day, BBC1, 6pm. New Year's Day, BBC1, 6.40pm
THE EAGLE HAS LANDED:
The Nazis infiltrate a Norfolk village to kidnap Winston Churchill. Terrific. December 20, BBC2, 4.50pm.
ELF:
Voted favourite Christmas film by Twitter followers of Binky the Doormat (see link, right), I've never seen this as star Will Ferrell has that 'I'm hilarious' Chevy Chase air. Christmas Day, Film 4, 9pm.
ENCOUNTERS AT THE END OF THE WORLD:
The great Werner Herzog on scientists in the Antarctic. December 22, More4, 10pm.
FATHER TED:
A Christmassy Ted - underwear and Unctious. It's become a Christmas staple and deservedly so. Plenty of Ted on E4 over Christmas. December 20, Channel 4, 10.20pm
THE FATTEST MAN IN BRITAIN:
Co-written by Caroline Aherne and starring Timothy Spall and Bobby Ball, yes Bobby Ball, one of the funniest men alive. I saw him hit Sooty at a Bradford panto after the puppet had been taking the piss. "He was aggravating me Tommy," he told his comic parner Cannon. Anyway Bobby is Morris Morrissey (!) who becomes fatman Timothy Spall's agent when the big fella becomes famous. December 20, ITV1, 9pm.
THE GOOD LIFE:
Oh Margot! Christmas special. December 24, BBC2, 7.30pm
GREAT RAILWAY JOURNEYS:
With Alexei Sayle. New Year's Eve, BBC2, 9am
HAIRY BIKERS' 12 DAYS OF CHRISTMAS:
Hurrah for the cheery duo, who also make perfect Reeves and Mortimer characters. They're my favourite TV chefs, just ahead of Jamie and Nigella. December 21, BBC2, 6pm. Nigella's on BBC1 half an hour after the Bikers. Jamie's on Christmas Eve, on C4 from 4.10pm.
THE INCREDIBLES:
Pixar's tale about superhero family. Christmas Day, BBC1, 3.10pm.
THE ITALIAN JOB:
Bloody doors and Benny Hill (and Michael Caine). New Year's Day, Channel 4, 7.05pm
MORECAMBE AND WIDE CHRISTMAS SHOW:
1973, with Rudolf Nearenough. Boxing Day, BBC2, 9.10pm.
THE MUPPET CHRISTMAS CAROL:
The best Muppet film and arguably the best Christmas Carol film. December 21, Channel 5, 4.25pm.
MURDER BY DECREE:
The best of the Holmes films/TV series over the festive period. Christopher Plummer is a suitably equine Holmes, James Mason an amiable Watson and there's heaps of atmosphere as the duo take on Jack the Ripper. Part of ITV3's Holmes Weekend which includes loads of Jeremy Brett, supposedly the best Holmes, but I always think he looks like he's sitting on a pencil. December 19, ITV3, 9pm and December 20, ITV3, 11pm.
NOT THE NINE O'CLOCK NEWS NIGHT:
Sketch show that links Monty Python and Spitting Image and showcased the talents of Rowan Atkinson and its team of writers. Documentary followed by an edition of the show. May have dated though. December 28, BBC2, 9pm
OLIVER POSTGATE - A LIFE IN SMALL FILMS:
Deserved tribute to a unique talent. Ivor the Engine always takes me back to childhood winter tea-times in front of a coal fire. December 22, BBC4, 8pm.
ONLY FOOLS AND HORSES:
Christmas specials from 2001, 2002 and 2003 on consecutive afternoons from December 21 on BBC1, starting with the one where they've made their money. December 21, BBC1, 1.45pm.
PEEP SHOW:
Series 5 on E4 on December 26 from 9pm. Series 6 is on December 27 on the same channel from 9pm.
THE REMAINS OF THE DAY:
Stiff upper-lippery is nice, but stiff upper-lippery can stop you from doing all the things you want to do. Anthony Hopkins gives his best performance as devoted butler in 1930s and 40s England. Emma Thompson is great too (what's happened to her?) December 27, Channel 5, 3.15pm.
ROMANCING THE STONE:
Uptight author meets rude adventurer on dangerous trip. Kathleen Turner is superb in this comedy drama. New Year's Eve, Channel 4, 1.05pm
THE ROYLE FAMILY:
Last year's Christmas special was superb ('Bar-bear-a') and not given enough praise, probably because it was overshadowed by its predecessor about the death of Nan. Christmas Day, BBC1, 9pm.
THE RULES OF FILM NOIR:
Documentary followed by several noir classics over Christmas. December 24, BBC2, 12.55am. Build My Gallows High is on December 27, BBC2, 1.50am. Farewell My Lovely is on December 28, BBC2, 1.45am. Dead Reckoning is on December 29, BBC2, 1.40am. Crossfire, January 2, BBC2, 1.40am
SOME LIKE IT HOT:
New Year's Day, ITV1, 12.30pm
STELLA STREET:
Film based on Cornwell and Sessions' impressions, worth it for the Rolling Stone cornershop. Boxing Day, BBC2, 2.30am.
STEVE COOGAN NIGHT:
Documentary, followed by Alan Partridge Christmas special, and two Partridge-in-a-hotel episodes. Rest of this series is being shown before New Year. December 27, BBC2, from 9pm
THE STORY OF SLAPSTICK:
Documentary, from Chaplin to Bottom. Crying out for a season of Laurel and Hardy films to follow - another childhood Christmas staple that's disappeared. Boxing Day, BBC2, 11.15pm.
THIS IS SPINAL TAP:
Ice, fire, lukewarm water. New Year's Day, Dave, midnight and 9pm.
VICTORIA WOOD NIGHT:
Starting with a 90-minute sketch show compilation, followed by her 2000 Christmas special and an episode of Dinnerladies. The sketches are still great but Dinnerladies has dated badly. December 21, BBC2, from 8.30pm. A new Christmas show is on Christmas Eve, BBC1, 9pm.
WALLACE AND GROMIT:
All their films are on over Christmas, starting with Curse of the Were Rabbit. Boxing Day, BBC1, 4.40pm. A Matter of Loaf and Death is on December 28, BBC1, 7pm.
THE WICKER MAN:
The most shocking ending to a film ever and one of the late Edward Woodward's greatest performances. December 30, ITV4, 10pm.
SHEFFIELD 1972: THE MOVIE
May 09: Remember the jolly publicity film for Sheffield at the start of The Full Monty? Well it's part of 'City On The Move', made by Sheffield Council in 1972, which extols the virtues of one of my favourite cities.
Those were the days when all the new housing, now tired and forlorn, looked smart and cheerful, when a huge polo mint roundabout, with its own fishtank, was an attraction, when the Fiesta nightclub was the largest in Europe and attracted Swedish 'tourists', and when the steel, cutlery and snuff industries were still going strong. The film looks to be part of a Sheffield tradition of doing something different, from the Olympic-sized swimming pool to the train station fountain, and it also reminds you what a green and pleasant city it was, and is. It has come creaky Mr Chumley-Warner moments and is a bit all over the place thematically but it's a wonderful film.
Dec 08: Under Milk Wood with talking trains and singing dragons, lovely. Sounds like Mr Postgate was a smashing fella, too. His programmes were gentle, funny and surreal.
No homogenised dancing puppets
.
CHRISTMAS FILMS AND TV 2008
Dec 08: The Christmas Radio Times is finally out, half a week after its competitors, but it's still the best - the layout's so much better. So here are my highlights to remind me what's on - a new Doctor and a new type of Cyberman, Billy Liar film couple reunited in the Royle Family, a new Wallace and Gromit, a good selection of Carry Ons and a documentary about the reopening of the York-Beverley train line (wa-hey), but no Basil Rathbone Sherlock Holmes films.
AFFINITY
Adapation of creepy Sarah Waters novel, ITV1, December 28, 9pm. TV remake of 39 Steps is on BBC1 at roughly the same time.
A STUDY IN SHERLOCK
An examination of the various portrayals of Sherlock Holmes (but no Basil Rathbone films) BBC2, December 30, 10.40pm
BEECHING'S TRACKS
A campaign to reopen the Beverley to York rail line. BBC4, December 23, 8.30pm. A new programme followed by a repeat, Ian Hislop Goes Off the Rails, where the mole-y satirist looks at the Beeching Report.
CARRY ON FILMS
Mainly early ones on three different channels
Carry on Behind:
This is a vastly underrated Carry On. Elke Sommer gets into the spirit of things as a Russian archaeologist with plenty of mistranslated double entrendres ('How are you doings?') allowing her colleague Kenneth Williams to pull plenty of double takes. Windsor Davies and Jack Douglas ('Hernest') are good too, C4, December 29, 12.20pm
Carry On Cleo:
I can't remember this one apart from 'Infamy, infamy...' and a stunning Amanda Barrie, ITV1, New Year's Eve, 11.25am
Carry On Cowboy:
The Rumpo Kid is terrorising Stodge City. A good 'un, Hawtrey's on top form as drunken Big Heap. Blazing Saddles used some of the same plot, ITV1, December 30, 12.55pm
Carry On Follow That Camel:
Phil Silvers reprises his Bilko role in uneasy mix with the Carry On crew, BBC1, Boxing Day, 1.40am
Carry On Girls
Sid James organises a beauty contest, June Whitfield is a feminist objector, Kenneth Connor is hilarious as her nasal-voiced hubbie and Jack Douglas walks into a hotel and out again wa-heying and twitching all the way. January 2, BBC1, 12.10am
Carry On Jack:
I can't remember this one at all. Bernard Cribbins in the lead and only Williams, Hawtrey and Dale among the regulars, ITV1, December 29, 11am.
Carry On Screaming:
Frying tonight with Fenella Fielding, ITV1, January 2, 12.55pm
CHITTY CHITTY BANG BANG
Our fine old faithful friend, ITV1, New Year's Eve, 3.45pm
CON AIR/HONEYMOON IN VEGAS
Nicholas Cage double bill. In the first, he's a 'good' prisoner facing a horde of hammy villains on a plane led by Sirus the Virus John Malkovich. BBC1, December 23, 10.35pm In the second film, he ups the goofiness to almost intolerable levels when James Caan wins his wife in a card game, 12.25am Cage is also in Snake Eyes on BBC1, December 20, 11.40pm
DA KATH AND KIM CODE
I've only two words to say to you: Feature-length Xmas version of chirpy Aussie mum and her lemon-faced daughter, BBC2, New Year's Day, 2.15am (yes am and it's more than two words)
DOCTOR WHO
David Morrissey is another doctor with another Tardis who joins forces with Tennant to fight Cybermen and Dervla Kirwan (dribble) in Victorian London. The Cybermen had their arses kicked by a Dalek last time out so this time we're promised faster, deadlier Cybershades. Meanwhile Morrissey is fave to become the new Doc after Tennant's next four specials, BBC1, Christmas Day, 6pm
THE EAGLE HAS LANDED
Undercover Germans plot to kill Winston Churchill in an English village. Surprisingly convincing. One of the Germans is Michael Caine, BBC2, December 28, 1.50pm
FATHER TED
Lingerie departments, Golden Cleric, Father Todd Unctious. C4, December 22, 10pm
HARRY HILL'S TV BURP REVIEW OF THE YEAR
Fight! ITV1, Boxing Day, 7pm
HIDDEN
French thriller about a couple who discover someone is filming them, C4, December 20, 11.35pm
HITCHCOCK
Concentrating on his 1940s films:
Notorious:
Ingrid Bergman has to spy on the Nazis, BBC2, December 29, 11.40am
Spellbound:
Amnesiac Gregory Peck's troubled past, BBC2, New Year's Eve, 10.20am
Suspicion:
There's something fishy about Cary Grant, BBC2, December 29, 10.05am
The Wrong Man:
Henry Fonda ain't done the crime, BBC2, January 2, 1.15pm
IT CROWD
The whole of the second series. E4, New Year's Day, 9pm. Last in third series, C4, Boxing Day, 9.50pm.
HOWL'S MOVING CASTLE
Magical Japanese animation about a walking castle and a girl trying to break a magic spell, December 28, BBC2, 10.05am
IT'S A MAD, MAD, MAD WORLD
Probably the best of the all-star wacky race/caper movies, allowing all its various comedians to shine. This also has a decent plot about a plan to find gold. It features the magnificent Terry Thomas, plus Spencer Tracy, Phil Silvers, Sid Caesar, Buster Keaton and the Three Stooges among others, Five, Boxing Day, 1.25pm.
JONATHAN CREEK
A one-off return for the mop-haired investigator. Slightly contrived plots, but watchable. BBC1, New Year's Day, 9pm.
MORECAMBE AND WISE 1975 CHRISTMAS SPECIAL
With Diana Rigg and Des O'Connor, BBC2, Boxing Day, 9.30pm
PEEP SHOW
The whole of the post-wedding series five, E4, December 27, 10pm. People who got this for Christmas will be pissed off.
THE ROYLE FAMILY
They reckon they can top the Nana episode of two years ago. This year they leave the front room to have Christmas dinner at Denise's. Tom Courtenay and Helen Fraser playing Dave's parents. They were Billy Liar and his soppy fiancee in the film (discussing their cottage in Undercliffe Cemetery)
SCHOOL OF ROCK
Jack Black's a music teacher in a posh school, Film 4, December 27, 6.50pm
SEABISCUIT
Old nag, crap jockey, amazing wins, true story. BBC2, December 23, 4.50pm
SEXY BEAST
Ben 'Gandhi' Kingsley's the hardest man ever and Ian 'Lovejoy' McShane's not far behind, leaving Ray 'Nil by Mouth' Winston looking like a quivering prune. Film 4, New Year's Day, 11pm
SHOOTING STARS
A documentary and a new show - no Vegas, Self or Lamarr, though. Bob wants to do another Big Night Out, yes! BBC2, December 30, 9pm
SUPERMAN RETURNS
A new Superman that picks up after the Superman 2 Reeve original (defeating Terence Stamp and other baddies). Kevin Spacey is Lex Luthor. BBC1, December 29, 8.30pm
SURVIVORS
Last in the series where a a flu virus kills most folk. As Thatcher dreamed, there is no such thing as society and it's every person for themselves. This has been an absorbing series where the tension never drops. But what happens the tinned food and petrol run out?
TIGER BAY
Girl hides murderer in this 1959 thriller set in Cardiff. December 30, BBC2, 11.55am
WALLACE AND GROMIT: A MATTER OF LOAF AND DEATH
New plasticine action. My memories of W&G have been forever sullied by a Viz cartoon where Wallace accidentally invents a wanking machine and in the last frame of a cartoon, he shouts to Gromit: 'Cracking toss eh Gromit?' BBC1, Christmas Day, 8.30pm. All the other Wallace and Gromits are on over Christmas, including Curse of the Were Rabbit, BBC1, Christmas Day, 4.30pm
YOUNG FRANKENSTEIN
It's Franken-steen! Mel Brooks/Gene Wilder/Marty Feldman, New Year's Day, BBC4, 12.25am
THE YOUNG ONES
'Gives us some easy questions Bambi you bottom burp', BBC2, December 27, 11pm. Part of a University Challenge night, including James McAvoy in the aimiable film Starter for 10.
WETHERSPOON'S HOLMFIRTH UPDATE
Oct 07: Company won't submit new plan after opposition from a council and residents
WETHERSPOON'S WANTS HOLMFIRTH CINEMA
Feb 2007: Wetherspoon's application to convert Holmfirth Picturedrome into a pub has been turned down.
But cinema owner Peter Carr is to stop showing films in March and only have gigs. He cites poor attendances. The Picturedrome (formerly the Holme Valley Cinema) was opened in 1913 by the Balmforth family of Holmfirth, the famous picture postcard/film-making pioneers. The cinema became a bingo hall in 1967 and was reopened as a cinema in 1998. Current owner Peter Carr stopped the nightly film shows last year, blaming poor audiences and increased costs and launched a fundraising drive to keep the cinema open. He won a lottery grant to keep showing films but told the Huddersfield Examiner he would have to match the £18,000 lottery grant on offer. The Picturedrome is a bit of flea pit to be honest and doesn't have the charm of the Hyde Park or Cottage in Leeds and seems to be concentrating on gigs more than films now, but it's a shame to see these small cinemas close, especially as it would be about 10 miles to Huddersfield's identikit multiplex. As for Wetherspoon's, after starting as a bit of an underdog with its championing of real ale, late food, no music/TV and some beautiful building conversions, it is fast becoming the Darth Vader/Tesco of pub chains as befits a company at the beck and call of quickbuck-loving shareholders. Incidentally, the first films to be shown in 1913 were That Awful Pipe, A Court Intrigue, and Betrayed by a Kiss. That Awful Pipe sounds intriguing - perhaps it featured a heavily moustachioed man with a vast briar pipe clamped between his lips. He falls asleep and the pipe belches out smoke which drifts out of a window. A moustachioed passer-by (probably wearing a hat) points and a caption appears on screen: "Fire!" The fire brigade of moustachioed buffoons are called (cue tinkly piano music and much falling over hosepipes) until the pipe smoker wakes up and asks his wife (caption: "What's up?"). His wife (no moustache) says (caption): "That awful pipe." and beats him over the head with a rolling pin (with comedy sound-effects). According to Internet Movie Database, the film was directed by Bert Haldane who directed dozens of other silent films between 1910 and 1920 including the intringuely titled Peter Tries Suicide (he obviously didn't try very hard because there appears to be a sequel called Peter Pens Poetry). And how about Polly the Girl Scout and Grandpa's Medals, then there's Allan Field's Warning, the thrilling Luggage in Advance, the equally diverting When Paths Diverge and the unfortunately titled The Child and The Fiddler? George Formby made his film debut at the age of 10 in a Haldane-helmed 1915 film By the Shortest of Heads (according to the George Formby website) Info: Huddersfield Examiner/Holmfirth Picturedrome/Internet Movie Database. Pic: BBC
GREAT SCREEN SNIVELLERS

Word magazine has produced a list of tearjerkers in films - Cyrano De Bergerac, One Good Turn, Butch Cassidy, Brief Encounter - but I reckoned they've missed some classics: 1 BRASSED OFF

A coal mining town's brass band is in the UK brass band final but the pits are about to close and conductor Danny (Pete Postlethwaite) appears to have twirled his last baton - he's in hospital coughing up phlegm the consistency of tar. It's late at night and as Danny lies in his hospital bed he hears a brass band playing Danny Boy. The nurse opens the curtains and there's the band outside the hospital. (I'm not crying, I've got some dust in my eye!)

2 THE ELEPHANT MAN

After years of beatings and ridicule, our hero has been rescued by a kindly couple, been given a suit to wear and is sitting in a posh drawing room when Susannah York hands him a cup of tea and he says: "You've...all..been..schoh..kind." (I'm not crying, it's my sinuses!)

3 SIDEWAYS

Paul Giamatti's character is describing his favourite wine, which is just like him - fragile, needs a lot of care etc when Virginia Madsen's character puts his hand on his and he takes it away (NO!!!!) Later he meets his ex-wife at his pal's wedding and she tells him he's pregnant. He puts on a brave face then drinks his best wine in a shitty take-away. (I'm not crying, a fly flew into my eye!)

4 RAILWAY CHILDREN

One of Word's readers (Jon Peake, not THE Jon Peake from Newton-le-Willows, surely?) mentions the "Daddy, my daddy" scene at the end of the film when Iain Cuthertson emerges from the train smoke. But there are also the scenes where Jenny Agutter gets her birthday presents and where Jenny and the rest of the kids buy station master Bernard Cribbins his presents. There is extra guilt about..er.. eye watering during this film, as the kids are such poshos, protected from the fact that their Dad's being banged up and living in "reduced circumstances" - a whacking great country house overlooking fields and a railway line.

5 THE FULL MONTY

(The great) Lesley Sharp thinks screen hubby Mark Addy's been playing away when she finds a racy thong. He tells her he was going to be a stripper but decided against it 'cos he's too fat. "Who wants to see this?" he points to his body. "I do," she says, looking at him with her big soulful eyes. (Onions, is someone peeling onions?)
NORTHERN FILM LOCATIONS
Billy Liar (1963):
Tom Courtenay is a daydream believer in fibs and fantasies as he drifts around Baildon, Bradford, Ilkley Moor and Manchester and can't leave even when Julie Christie swings her duffel bag at him ("Mr Shaddy-addy-rack").
Hell is a City (1960):
Grim Up North Noir with Stanley Baker as a copper so hard-boiled he's been left in the pan for a week. Everyone smokes. Trains stop at GMEX. Levenshulme, East Didsbury, Huddersfield, Medlock, Burnage, Withington and Oldham are the other locations.
Kes (1969):
"And it's the slightly balding Bobby Charlton for Manchester Eweunited". Hawking in Barnsley.
A Kind of Loving (1962):
Alan Bates throws up on Thora Hird's carpet. Thora, in Dame Edna glasses, calls him a pig. Steep park where he gets Thora's daughter pregnant is in north Manchester, also Preston, Stockport, Salford.
Taste of Honey (1961):
More unwanted pregnancy in Salford, Manchester, Blackpool and London. Morrissey-esque. Lovely shot of old Barton Bridge.
This Sporting Life (1963):
Set in the snot, gristle and mud of Wakefield rugby league. Big time Charlie undone by love of a widow. NEW
My Summer of Love (2004):
Lass from the town meets young lady from the big house for romps in a place where the sun always shines - Todmorden. They also cause a bit of a stir at the Ritz Ballroom, in Brighouse. Paddy Considine plays the scariest Christian ever. Location info:
VAL GUEST 1911-2006
The London-born director and writer, who died at the age of 94 on May 10, started his career co-writing films for bumbling maestro Will Hay in the 1930s and ended it directing Hammer House of Mystery and Suspense shows for TV nearly 50 years later. In between, he directed and co-wrote two classics: Hell is a City (Manc film noir) and The Day the Earth Caught Fire (sweaty journos discover Earth is heading into the sun), as well as taking charge of the first two Quatermass films.
Guest also directed Confessions of a Window Cleaner (Robin Askwith drives women wild even though he looks like Jilly Cooper in drag), 14 films for Hammer (including The Abominable Snowman and When Dinosaurs Ruled the Earth) and episodes of The Persuaders and Space 1999. His father and mother divorced when he was a child but his father told young Val she had died. Even when he found out she was alive, he didn't tell his father and saw his mother in secret. After bit parts in a few films in 1932/3, Guest became UK correspondent for the Hollywood Reporter. He slagged off a 1932 Bela Lugosi film, saying he could write a better script. The film's director, Marcel Varnel, took him up on his boast and that's how Guest started co-writing seven films for Will Hay, including Oh Mr Porter. He co-wrote Ghost Train (1941), from the play by Arnold (Private Godfrey) Ridley, a creepy film about closed train lines and strange train noises, ruined by annoying Arthur Askey who wears a ludicrous hat and never stops jabbering. Guest also hated him, calling him Big Headed Arthur Askey, but after taking charge of a Ministry of Information film about the dangers of sneezing (colds spreading among ammunition factory workers), he made his directing debut with Askey in 1943 in Miss London Ltd, about an escort agency. It probably wasn't that kind of agency, although, you never know - "A handjob Arthur?" "Well stone me!" Guest married in 1955 and in the same year wrote the screenplay and directed the Quatermass Experiment about an astronaut who turns into an alien on returning to Earth, and Quatermass 2 (1957) about gas-type aliens taking over humans in a sinister food factory. Expresso Bongo (1959) features Cliff (Hi guys) Richard as pop star Bert Rudge. Guest supposedly came up with the name The Shadows for Cliff's group in the film. It's one of Guest's favourites along with Hell in a City (1960), The Day the Earth Caught Fire (1961), Jigsaw (1962 - Jack 'Dixon of Dock Green' Warner investigates murder in seedy Brighton) and Mr Drake's Duck (1950 - duck lays radioactive egg). In 1967, Guest was one of five directors on psychedelic, all-star James Bond shambles Casino Royale. He had tipped off the producers of the 'proper' Bond series about Sean Connery earlier in the decade. Confessions...was his biggest hit of the seventies and he ended his film career in 1982 with The Boys in Blue, a reworking of a Will Hay film starring Cannon and Ball. Biographical details from: Guardian, Indepdendent, BFI and Internet Movie Database.
THE BIG LEBOWSKI
The Dude abides
One of the best films ever - or great two films in one, as hilarious hippy leftover and his dopey mates get involved in a twisty kidnapping plot. It's hard to find a duff scene or character in this - the Dude listening to bowling sounds on a tape, the nihilists and the marmoset in the bath (Give us the money Lebowski), John Turturro in his cameo as Jesus (Don't fxxx with the Jesus), John Goodman getting increasingly angry and relating everything to Vietnam (A world of pain, Shut the fxxx up Donny), David Thewlis as a whinnying friend of the Lebowski heiress, and Philip Seymour Hoffman as a Smithers-like aide (We're all very fond of her) They even have Lebowski Festivals in America (see banner)with people dressing up as bowling balls and competitions to chuck bags of underwear. Great site, including copy of the script: